In this post I want to talk about physical access, ramps, parking and toilets. I'm going to write in later posts about 'inclusion' from a broader definition. This was an incredibly difficult post to write but one of the things I want to ensure in the blog is that I represent our experience and that I aim not to oversimplify complex issues.
So what's access like at the Fox's Biscuits Stadium? Out of 10… 10 on my scale being a place where the access for people with physical disabilities is equal to those without (I've not been anywhere that's a 10)…I'd call it a 5. There's a good amount of parking for people with blue badges and we always get looked after in terms of parking (even when we rock up at the last minute). There's level access around the whole pitch and to the bars around the back of the Glen Tomlinson stand. There's a 'regular' disabled loo. In terms of watching the game there are 3 areas specifically for wheelchair users. One of them, our favorite, gives a good view of the game from a few rows back and we've enjoyed meeting up with the 'usual' crowd in those seats a few times now. So the areas that are accessible are accessible. There are parts of the club that are up stairs. There is a stair lift which would be the right thing for some people but not for us. You can't beat the spirit of the place though "couple of the lads would help lift Lucy up though I'm sure" ("the lads" being the players) was the reply when I asked about access.
So the 5 is because in an ideal world the ground would have 'access all areas' for any disability and a 'changing places' toilet space. This is however no reflection on the friendliness of the club and their willingness to do anything they can to provide access. If you've never seen a changing places toilet this is what it looks like. (This is the one in the new M&S White Rose Centre).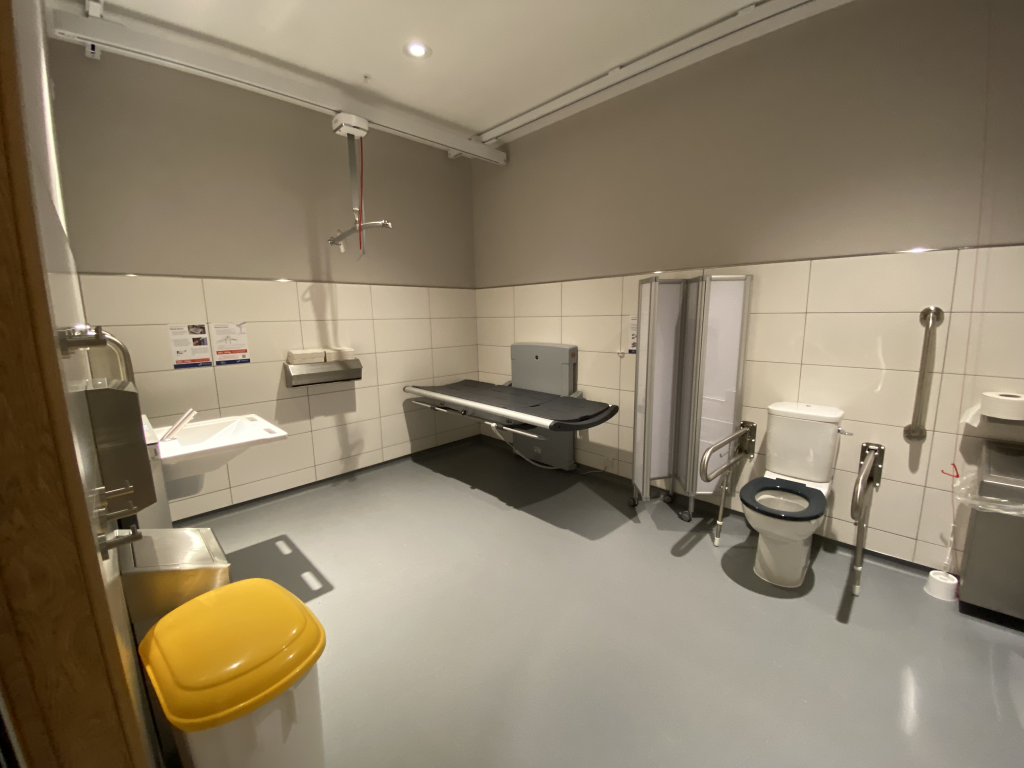 But to put this in context there are a few more things you need to know about Batley RLFC and Mount Pleasant. Mount Pleasant is the second oldest ground in Rugby League (Wakefield being older). (With thanks to Tony Hannan for sharing this stat in his book about Batley 'Underdogs'. It's well worth a read and will get more mentions as my posts go on.) It has developed on the same site over the last 143 years and you can see how access has changed over time. Looking back into the ground's history I can't help but wonder how even the team accessed the pitch when the ground had a record attendance of 23, 989 back in 1925. With thanks to Terrence Swift a former official photographer for the club and current club historian for his permission to use these images of the ground.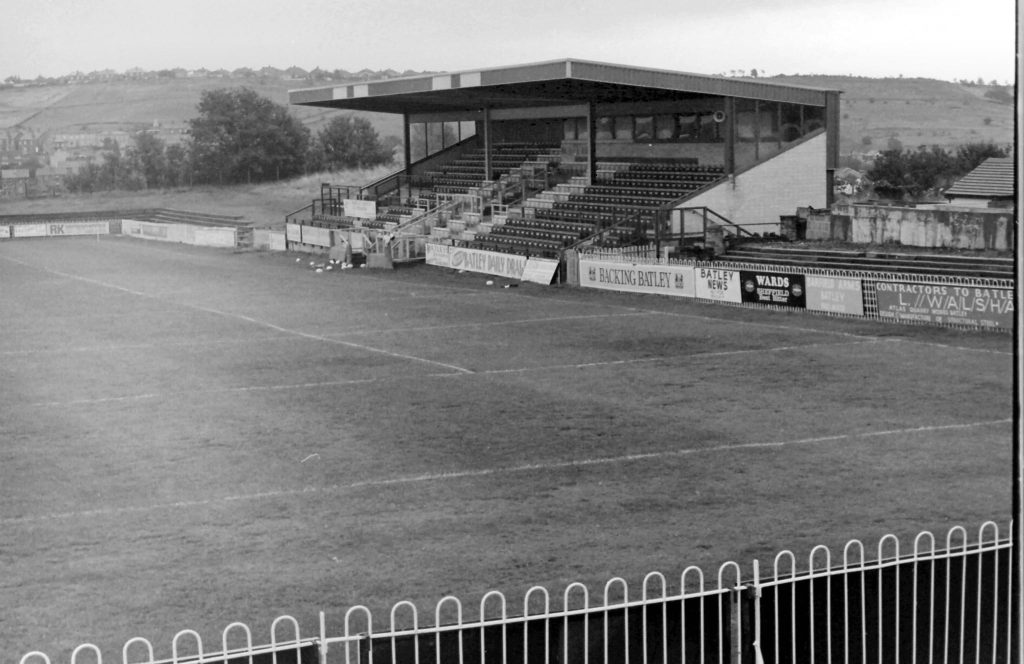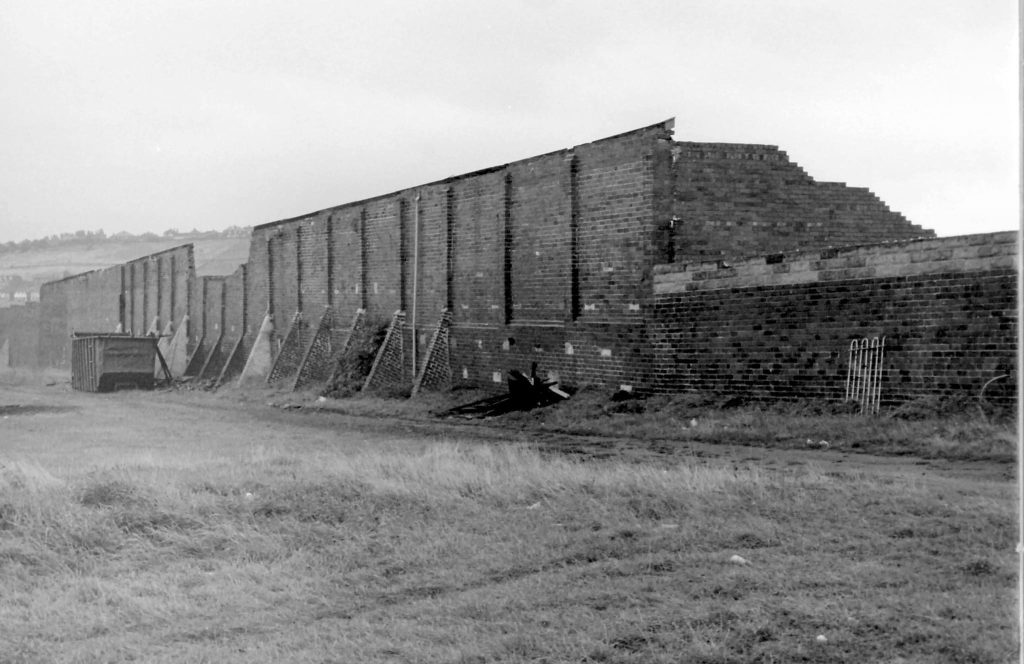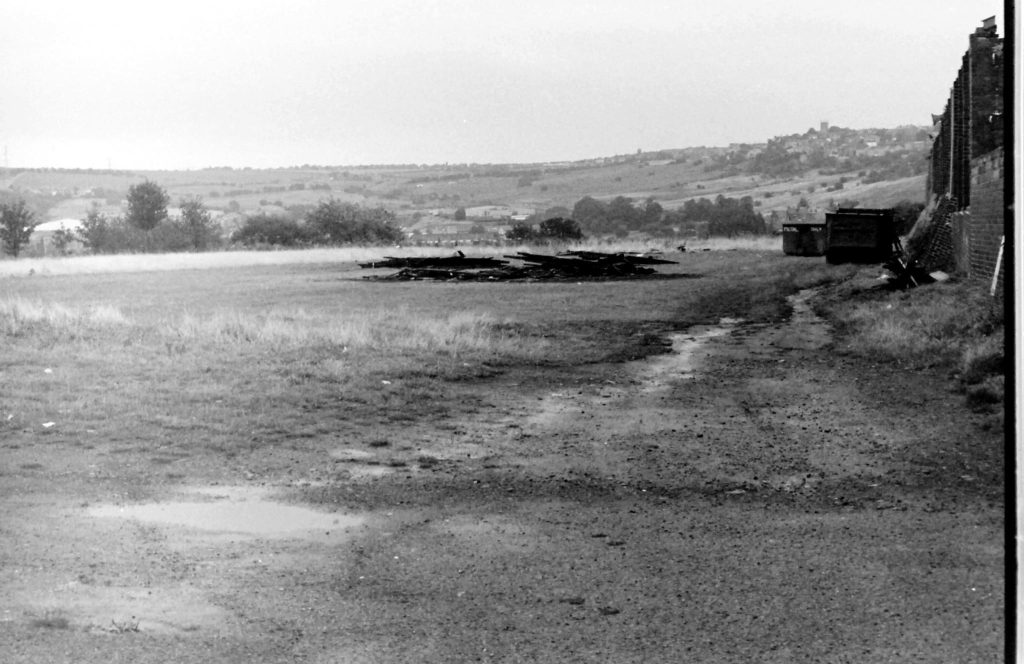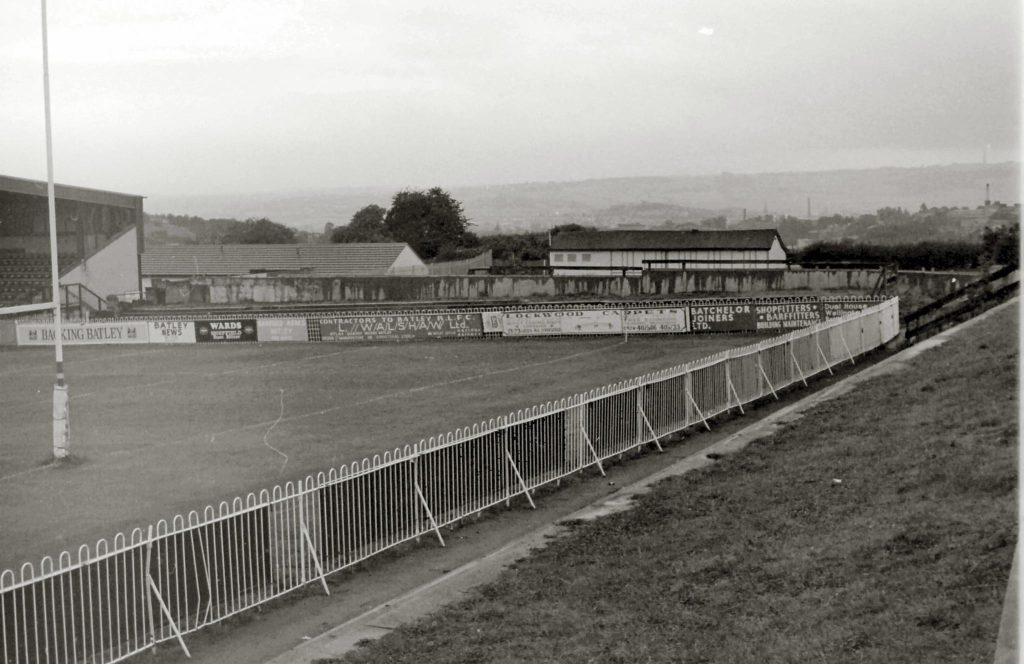 It's not simply about age though. Despite it's history, notwithstanding some original turnstyles, the current set up would definitely not be classed as a historic building. This is a community club. The players are semi-professional, they get paid but they all have full time day jobs too. Attendances are not massive and to the club's credit this year they are charging only £10 for all adult admissions, kids go free, in recognition of the cost of living at the moment.
I write all this because I now want to talk about an alternative access experience we've enjoyed twice this year and that is going to the LNER stadium in York, home of York Knights and Valkyrie RLFC and York FC. It's a brand new purpose built stadium, clearly built with some cooperation with the local authority as it links to a sports centre where there is a changing places toilet. We've been here twice this year, once for the Championship Summer Bash (Batley 20 Halifax 12) and once for the AB Sundecks 1895 Semi-final (York 8 Batley 22). The wheelchair seats are great but… unless you want to get very wet… not in with your own teams support which affects the atmosphere somewhat. There is a loo but it's a bit of a trek from the inside of the stadium. I'd give it an 8 overall.
Then there's the other end of the spectrum. Now I've never been to Old Trafford but a recent BBC News item about the Rise for Sport campaign for changing places shows the accessibility set up there. Go to https://sport.riseadapt.co.uk for more information about and to support the #riseforsport campaign. Again for context… according to sportrac.com the highest paid SINGLE player at Man U earns £350,000 A WEEK!!!!!! It's all well and good to hold up Old Trafford as an example of good access but even if clubs like Batley go a long way in competitions the winnings for the whole club pale in comparison with Jadon Sancho's weekly salary. 
Providing such a high standard of accessibility as elite football clubs is financially a drop in the ocean for them. For small community clubs like Batley it would be no small undertaking. The Changing Places consortium estimated the cost of a changing places loo in 2021 as between £12,000 and £17,000 just for the equipment. According to a Guardian article of 2020 the highest paid player at Batley earned £15,000 in a whole year. Clearly York have benefitted from community partnerships to make this happen too.
So at the same time as the #riseforsport campaign has been launched. I've been reconnecting with a much loved community sport team. Of course I wish I could give Mount Pleasant a 10 for access. I also hope I have been able to understand some of the nuance and complexity of keeping a club like Batley afloat financially (Thanks again to Tony Hannan and Underdogs for that).
So of course we'll keep going to Batley, hope we don't need a changing place while we're there and use the car (which will be helpful parked nearby) if we need to. Not ideal but what we have to do to see our team and not just go somewhere for the toilets! The ground has changed massively in the last 143 years, I'm certain it will continue to change and grow with the club.
In the meantime I will continue to raise awareness about the importance of changing places toilets and physical access and part of that is going places, being seen in places and starting conversations.