Decided it was time to update on some cool stuff I've found in the last few weeks.
Film in the making
First of all Kate Caryer filmmaker and AAC user is launching a new project called 'You Have Been Muted!' she's looking out for support and will be launching a crowd funder so you can follow her @thepinkpowerhouse for more information and I'll be sharing her posts.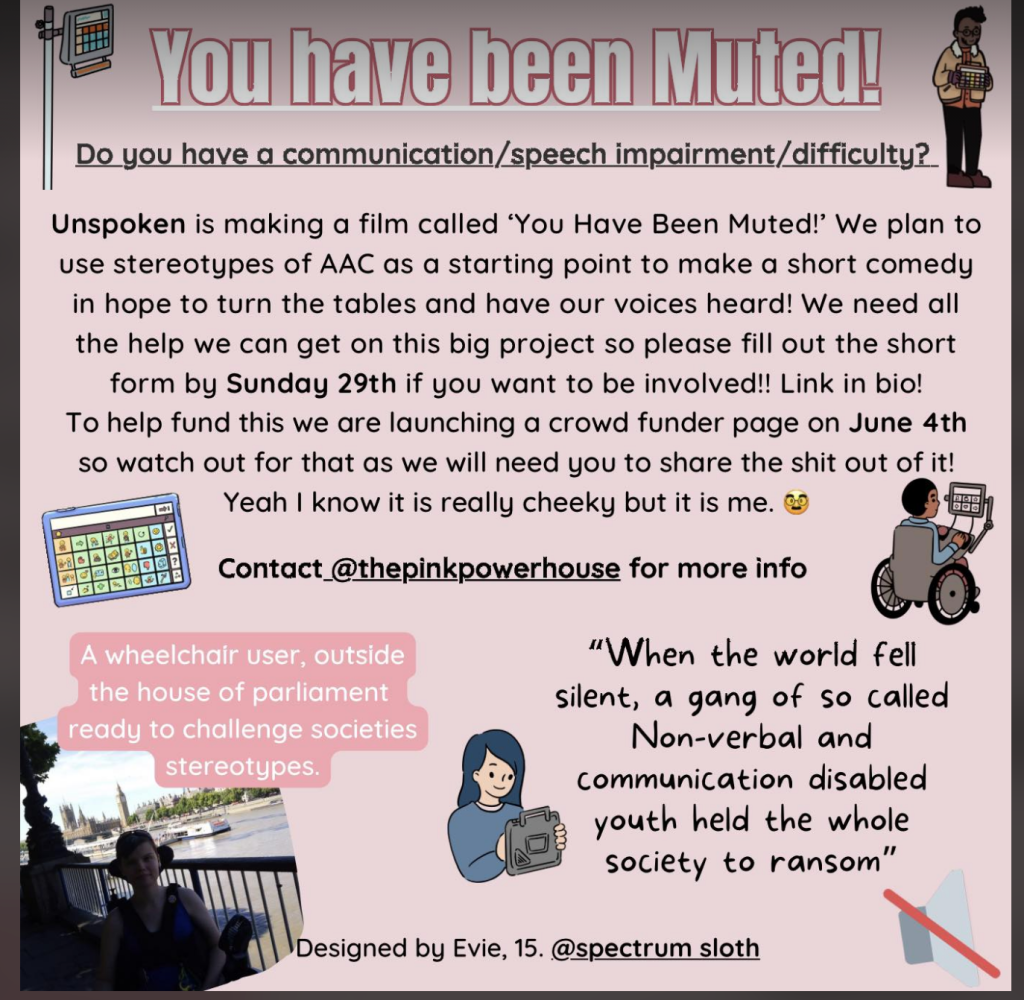 Podcast roundup 
I've once again been listening to a load of podcasts lately. I find them a great way to get information, support and entertainment and they help me do two things at once as I often combine them with walking or the housework.
I've discovered The Sendcast podcast which has some great episodes. I've really enjoyed the ones with Dr Sarah Moseley (more on her later in this post) on literacy for all learners (I know, I'm so predictable). There are some great episodes with sensory consultant Joanna Grace, I especially liked the one about 'mythbusting the magic of sensory rooms', that would be a great listen for any parents considering spending money on sensory equipment at home. My absolute favorite so far though has been 'Desperately Seeking Certainty with Claire Ward and Dr Jamie Galpin' an engaging and fascinating discussion about theories that unify different areas of mental health and makes so much sense. Framing the things I see Lucy do in terms of seeking certainty is a really interesting perspective. 
On Talking with Tech episode 271 on the 11th May Alyssa Hilary Zisk and Lily Konyn have a rich discussion with Rachel Madel about Gestalt Processing, Modelling and more. This is proper geeky AAC and language stuff but so much to think about! 
Reading (and listening) room
In preparation for the session I'm delivering at AAC in the cloud called 'SpaAACes' about the things that are happening when formal AAC strategies aren't I've been reading books by Mona Delahooke. I've listened to 'Beyond Behaviour' and have 'Brain Body Parenting' from the library. I really appreciate the way she presents a coherent way of integrating information from psychology and sensory integration into models that are manageable at home.
I mentioned I'd be back to Dr Sarah Moseley, some Amazon vouchers came my way and I bought 'Teaching Reading to all Learners Including Those with Complex Needs'. It was a really useful book. I like many parents, therapists and teachers have been excited by Erikkson and Kopenhaver's 'Comprehensive Literacy for All'. This book is a really helpful look at how the lessons from 'Comprehensive Literacy for All' and elsewhere can be integrated into practice in a UK context and has really helped me to understand better how it fits with the models in use in the UK. 
Global Symbols
In my last cool stuff post I mentioned Sensory App House and the PiCom communication app. I've been playing with it using the open board software and looking at whether Lucy's boards transfer from Coughdrop into it (they do, as expected). I got in touch with sensory app house and in the reply from Dave he mentioned the global symbols website. I've used the open symbols site that is on openaac.com but not this one. It's a super resource for lots of different symbol sets and allows you to log in and make boards and easily download the image files for symbols, all free, you just need to make sure you credit the symbol data bases.
Open University 'Our Story 2' App
Another free resource I've come across. This super little app from the Open University. It's a simple app that allows you to upload pictures, add text and add a voice recording to each picture which you can then play back. You can share them in full format with other users of the (free) app or output as PDF. Very cool!! Perfect for story building and retelling or sharing news.
https://www.open.ac.uk/apps/our-story-2#:~:text=This%20app%2C%20that%20has%20been,when%20they%20start%20to%20read.