This one is for my Dad
John Kitchen 1940-2014
This is likely to be a post that has little to do with AAC but a lot to do with history. It's about a few things. It's about grief, it's about passing on traditions, it's about family history and it's about Lucy's place in time.
Remembering Dad
My Dad and I travelled all over the north following Batley in the 90s. We had father daughter road-trips to Barrow, Workington, Preston, Rochdale and more to watch Batley play. It was a hobby we shared and we both loved it. Dad grew up in Birstall and had followed the club off and on for a long time. He'd been on a coach to Wembley for a number of Challenge Cup finals too. He was also a Leeds United fan and had even travelled to Barcelona to see them play once. He really enjoyed his sport and I loved sharing that with him. Dad had been unwell for some years before Lucy was born and the two of them only ever met in hospital wards. He died 3 weeks after she was born. Going to watch Rugby together just like I had with my Dad has always been something I'd imagined doing together with my own children. I'd imagined maybe he would have been well enough to be there with us though and we'd be able to chat about it and talk about the games. That wasn't to be but I'm utterly delighted to be able to take Lucy. I can only even begin to imagine how proud he would have been to see her go out onto the pitch with the team.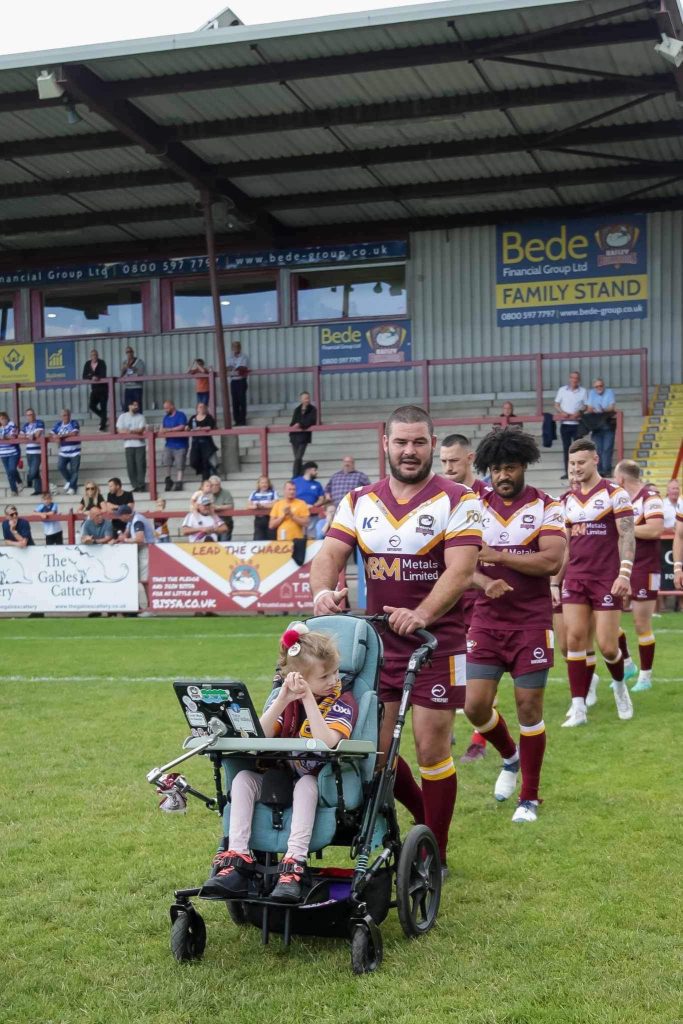 Diving into my Family History
My Dad had done a load of work on our family tree. This year Mum and I have committed some time each week while Lucy's been at school to organise what he found out, fill in gaps if we can and continue his work. It's been utterly fascinating in many ways. My Dad had found an ancestor called Benjamin Beaumont Kitchen who lived at Mount Pleasant in Batley. He was an interesting chap by the looks of things. What's notable about him rather than many others of my ancestors is that he is frequently mentioned in local papers. I've spent hours diving into the British Newspaper Archive and Dad spent some time in the past at the library. Between us all we have turned up quite a bit about him. I get the feeling he was pretty good at making sure he got into the paper. If he were alive now I feel like he'd definitely be an avid sharer on socials!
He was born in 1843 and died in 1928 aged 84. Quite an innings for anyone but especially someone born in the 1840s in Batley who began his work in the mill aged 8! Because he was in the paper we know what he looked like. This is the fella. If you have any suspicion that we're not related the please inspect our noses.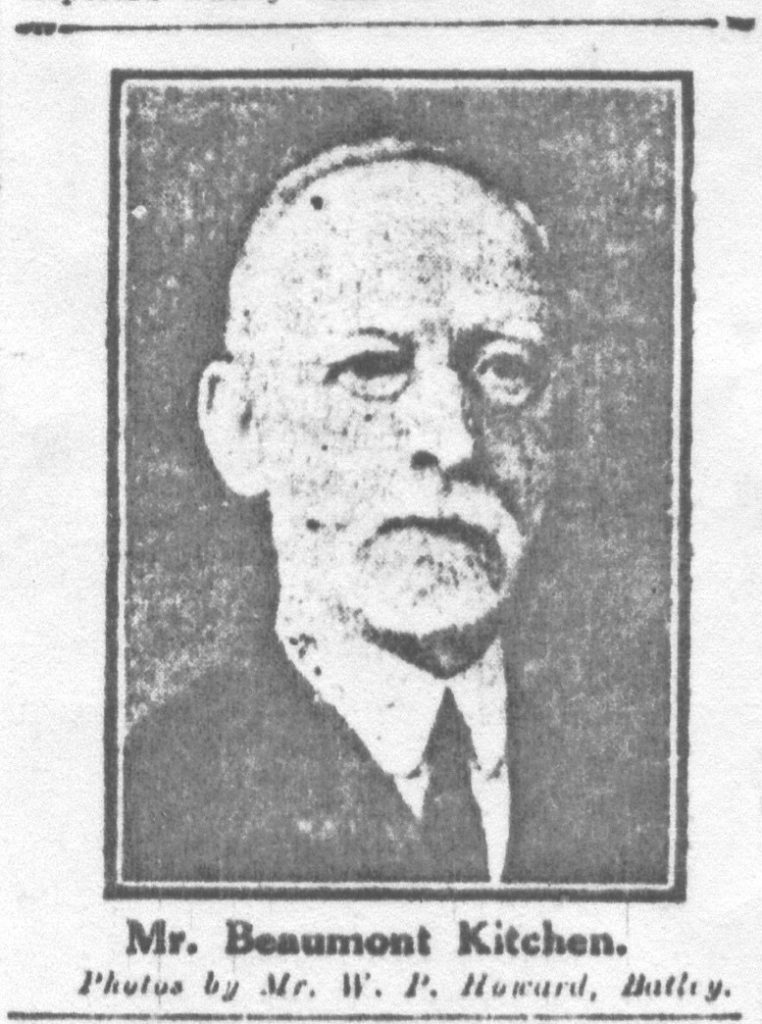 Now I can't mention Beaumont without mentioning his wife Elizabeth Ann. She is mentioned in the newspaper twice, once on their diamond wedding and once in Beaumont's obituary. It's very much a sign of the times (and I suspect his tendency to drop by the offices of the Batley News and the Batley Reporter to make sure he got in the paper) that Beaumont got so much more column inches. She married Beaumont in 1866 aged 23 and went on to have 13 children that we can find on census records and we suspect 2 more who died in infancy that we need to find more about. She out lived Beaumont and was 81 when he died. This is what she looked like when her picture was in the paper to commemorate their diamond wedding anniversary.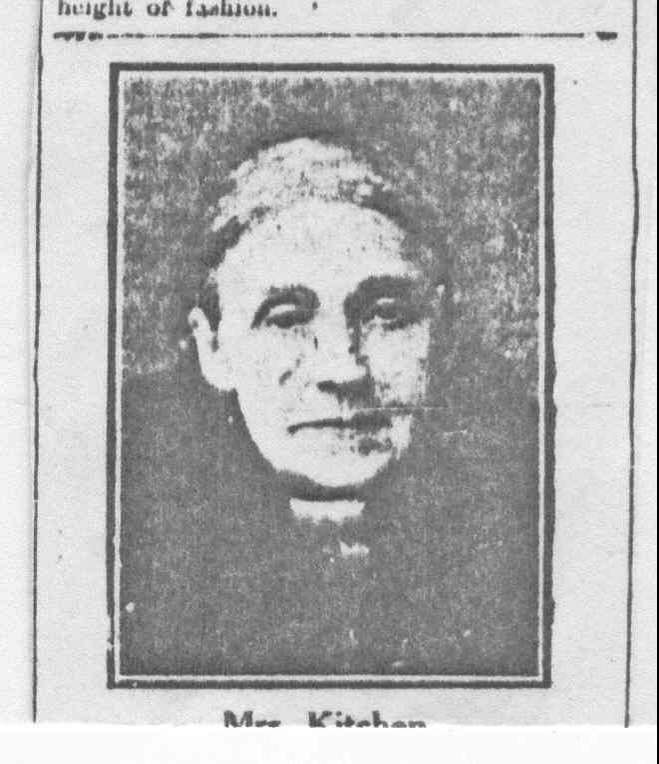 Now back to my Great Great Grandfather Beaumont as it's with him that the link to Batley RLFC is strongest. I have no doubt however that Elizabeth Ann's contribution to the club was significant even if she didn't always make the paper!
My Dad recalled that he'd read or heard somewhere that Beaumont played for the club (I also recall him saying he must have been very old when he did). I've checked this out on the heritage list pre and post Northern Union and he's not there. I have however found his name on a team list for a fundraising veterans match between Birstall and Batley Mountaineers which took place in March 1900 when he would have been 57. Batley Mountaineers were in contention with Batley Athletic in a match in 1880 to decide who would become the main club for the town. I wont deal with the controversy here for more see this on wikipedia or the fascinating book 'From the Mountaintop: An Archive History of Batley RLFC.' by John Roe, Terry Swift, Ken Pearson and Craig Lingard. Let's just say the Mountaineers lost out on becoming top club.
According to the papers though Beaumont did give a lot of time to the club. Here are a couple of extracts from reports of his death from the Batley News and Batley Reporter.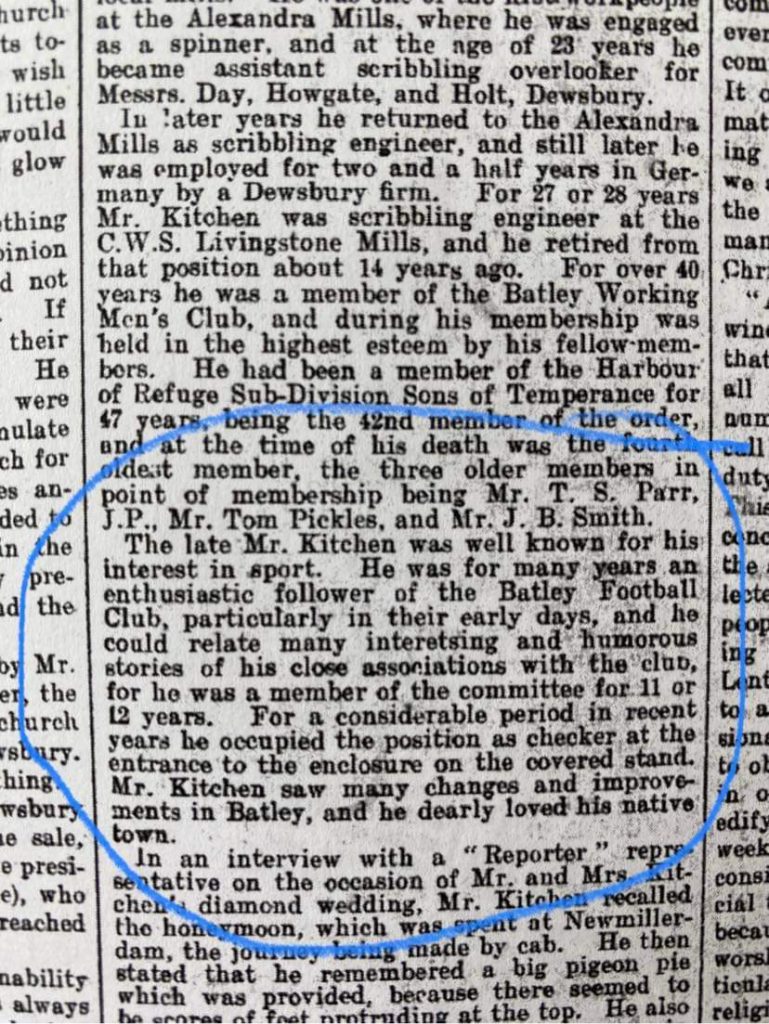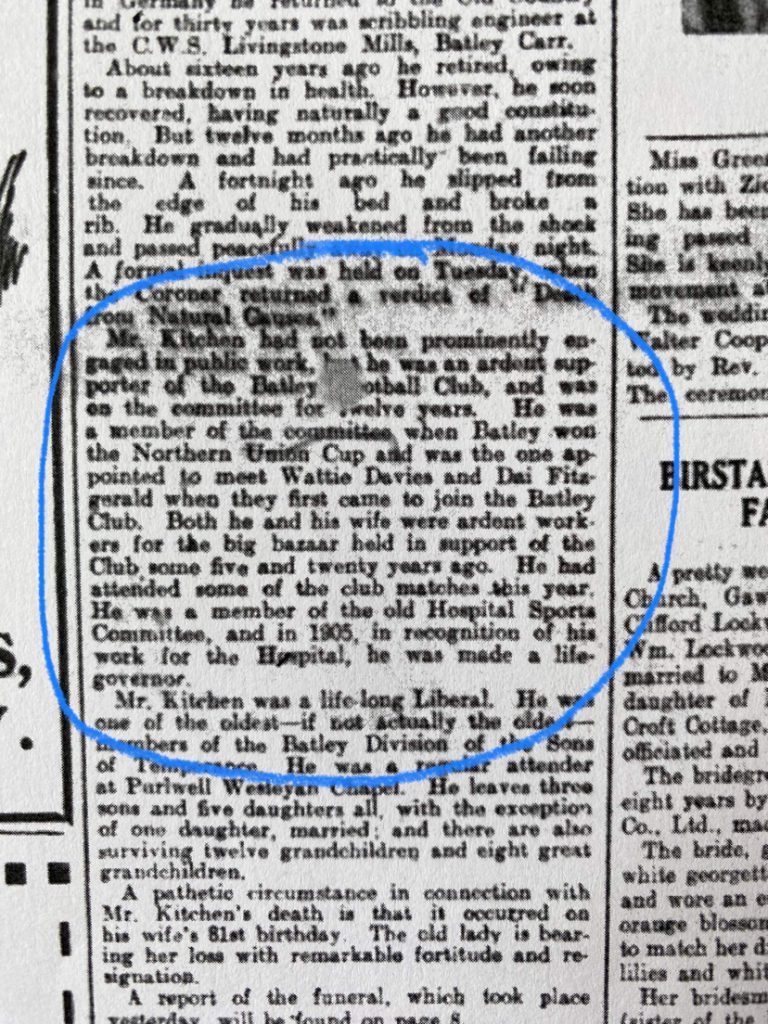 I also suspect he was one of the people responsible for the alcohol ban at the stadium which lasted into the 1980s as he was a member of the local temperance society. So to any of you Batley fans reading who missed having a beer at the mount in the past, sorry! (I wonder what he'd think if he went round the back of the Glen Tomlinson stand these days?)
In trying to find out if Beaumont did have a playing career I noticed another Kitchen in the heritage list. Willie Kitchen number 35 debut 18th January 1896 against Hull away. I couldn't resist the temptation to see if he was a relative and he is. Elizabeth Ann and Beumont had a son called William who was born in 1878 (that's based on the census). That would make him around 18 at the date of the match against Hull listed as his debut. As further evidence he also gets a mention in the paper in the report of the game against Hull. It's an interesting read. Apparently 2 players (George White and Jim Welsh) didn't get to the club in time to make the journey to Hull. Players were shuffled around with Bob Spurr's position filled by 'the reserve man B. Kitchen, who for some time has been making a name for himself in a junior team.' Bill and Willie both being short forms of William and his age and link to the club make it pretty certain that he's my Great Great Uncle. He also lived at Mount Pleasant at the time.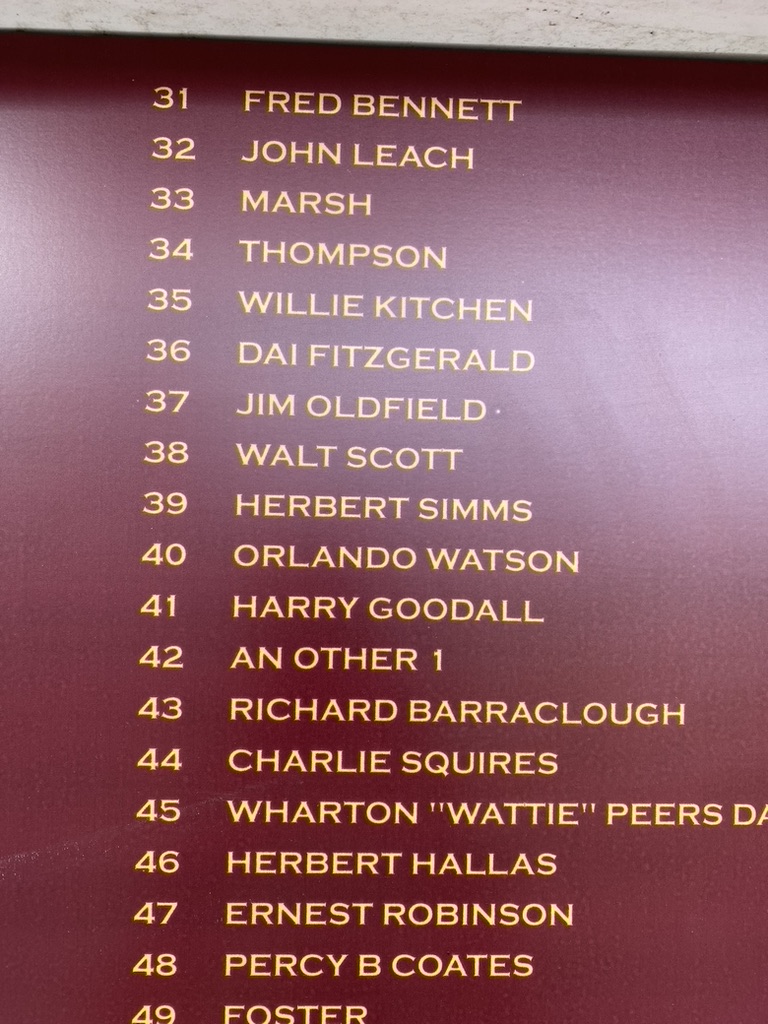 He could hardly have been called a club legend. According to the newly updated list online he played 13 games over 3 seasons and scored exactly no points. I can't help but wonder if his call ups were mostly when someone didn't show. He lived in Mount Pleasant a stones throw from the stadium so he was handy to 'make one in' at short notice! I've ordered a shirt to wear from Wembley and I'm going to post more about this later in the week but I decided to have a 35 on the back for Willie. Coincidentally though and I only thought of this when I saw that Beaumont was 35 when Willie was born, I was 35 when Lucy was so it's the perfect number for this particular shirt!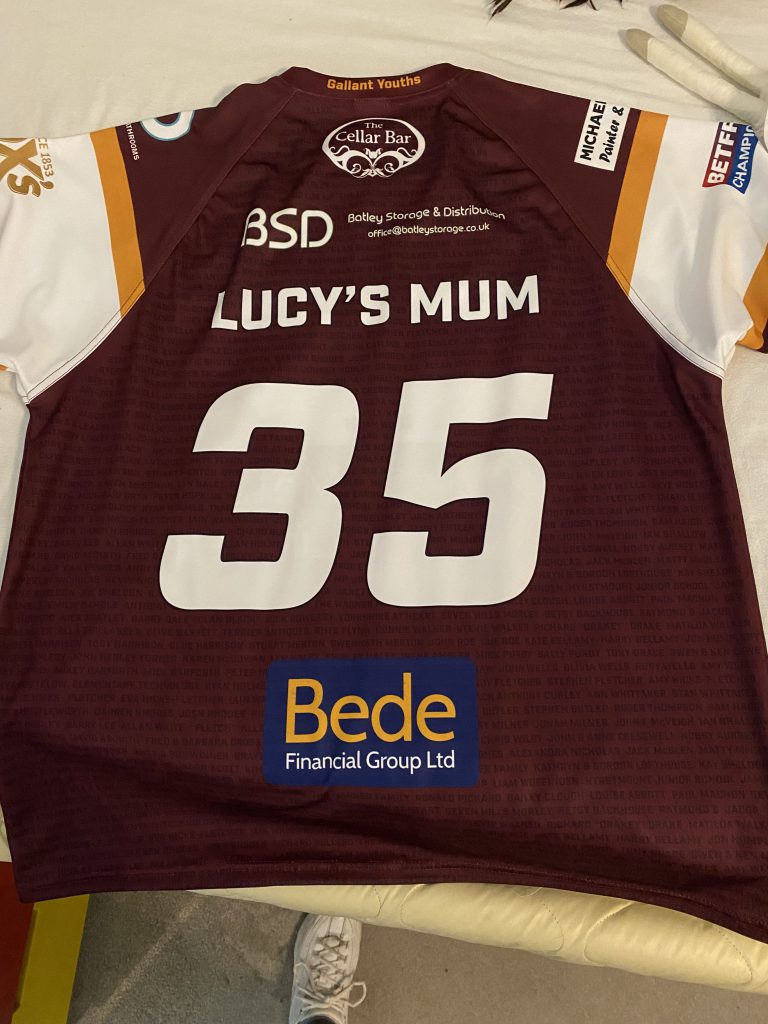 So what does all this have to do with AAC or with Lucy or disability or the things you usually write about Jo?
It doesn't have anything to do with AAC, that's a fair point. Is' about my family history project with Mum and Lucy's not had anything to do with it. It IS Lucy's heritage though and that's important. When Lucy was born we chose to have a naming day for her. She's named after Mum's grandma who raised my Mum, kept her and her brothers together and by doing that secured the family we have today. Her heritage is critical. I also thing its really important to look at all the aspects of Lucy that have been handed down through genetics (hopefully not that nose, I know Dad used to comment he didn't want me to inherit it either, it is handy for keeping your classes on though). Right from Lucy being born genetics became a problem an issue something that couldn't be changed but that was going to cause a lot of difficulties. Her genetics are also what link her to her past though and it's important to celebrate that too.
Knowing this family history really gives me even more of a connection to the club though and even more passion to share it with Lucy as part of her heritage and a way to talk about her Grandad.